AFT MPM 05
200-1000 Litres
Engine-Driven Water Mist
Medium Working Pressure
Suitable for Many Vehicle Types
High Efficiency
Digital Foam Regulation System
Digital Control Panel
Pressure: 40 bar
Flow Rate: 55 Litres/min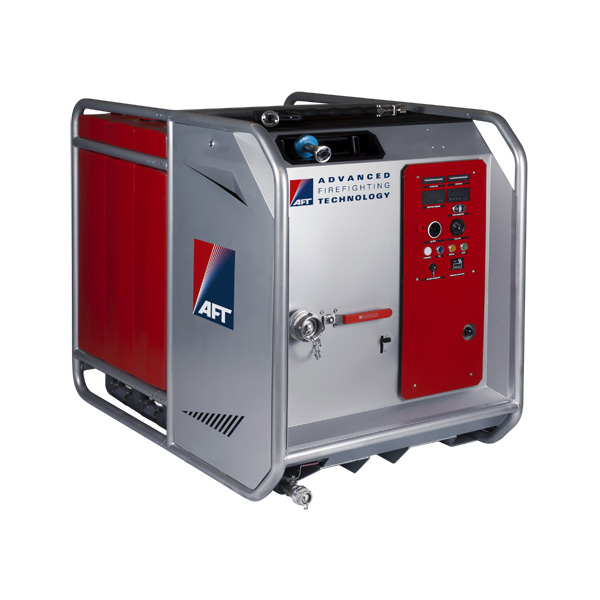 Description
AFT's MPM 05 utilizes AFT's patented water mist technology to provide high extinguishing performance at a very low water consumption rate. The integrated digital foam injection system enables variable foam dosage.
The AFT MPM 05 fire fighting system is specially designed for application on pickups, small trucks, or trailers. Its compact design makes the MPM ideal for integration in rapid response vehicles and special solutions for operations in difficult-to-access terrain such as forests and mountainous regions.
The AFT MPM is also available as a compact version making it as powerful as a fire truck.
Engine-Driven Water Mist
Modular Plastic Water Tank 200-1000 Litres
Medium Working Pressure
Suitable for Many Vehicle Types
High Efficiency
Digital Foam Regulation System
Digital Control Panel
High-Precision Foam Mixing System
External Suction from Water Sources (Lakes, Hydrants…)
Jet and Spray Mode
Easy to Operate
---
Technical Specifications
Engine
Petrol Engine
2-Cylinder
4-Stroke Petrol Engine
16 HP / 11.9 kW at 3500 min⁻¹
Electric and Manual Starter
Battery
Maintenance-Free 12 V Battery
Pump
Water Pump
High-Pressure Diaphragm Pump
Foam Additive
Foam Mixing System
Digital Mixing Injection System
Filling Capacities
Foam Tank
25 Litres
Water Tank
Modular Water Tanks.
Each Module Holds up to 200 Litres of Water.
The tanks can be integrated into the Frame as Required.
Fuel Tank
7.1 Litres
Technical Parameters
Flow Rate
Max 55 Litres/min
Operating Temperature
Tmin +5°C; Tmax +60°C
Frames and Covers
Steel frame and steel plates with double powder coating.
Connections
1,5″ C-coupling (Storz)
3/4″ D-coupling (Storz) 
Hose
30 m kink-proof hose on a steel reel with automatic retraction
(DN 19; 3/4″)
Transportability
By Forklift
Extinguishing Gun
Changeover Time
Approx. 2 sec. (Jet to Spray Mode)
Lancing Distance
Approx. 20-22 m Jet Mode
Approx. 7-9 m Spray Mode
Working Pressure
40 bar
Control Panel
Display
Battery Charging Indicator
Digital Filling Level Indicator for the Water Tank
Digital Filling Level Indicator the Foaming Agent Tank
Analog Filling Level Indicator for the Fuel Tank
Working Hour Meter
Revolution Counter
Digital Pressure Gauge
Setting Options
Digital Set Point Device for the Foam Additive (Seven-segment Display in %)
Two-Pole External Battery Charging Connection
Choke and Throttle
Button for Motor and System Start
Dimensions
Weight Empty
Approx. 314 kg with 600 Litres Water Tanks
Dimensions (WxH) Control Panel
Approx. 1000 x 1280 mm
Dimensions (L) Tank Modules
600 Litres 1500 mm
800 Litres 1750 mm
1000 Litres 2000 mm
---
Other Products in This Category