AFT Trolley 50/02
50 Litres
Wet & Dry Compressed Air Foam
Mobile, Easy to Transport Extinguishing System
Easy to Operate
Low Maintenace Costs
Pressure: 8.5 bar
Flow Rate: 24 Litres/min
Weight Empty: 52 kg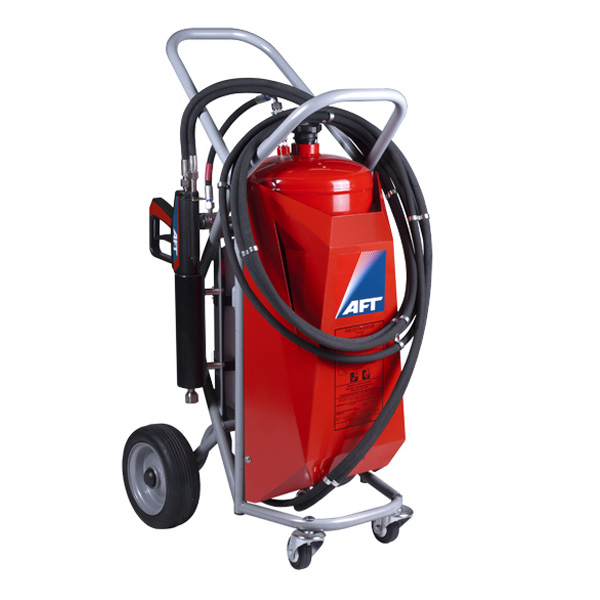 Description
The combination of the highly sophisticated AFT Gun and a trolley supply system make the AFT trolley the safest and ideal choice for handling medium size fires.The AFT trolleys are ideal fire-fighting solutions for warehouses, workshops, and construction sites and can be mounted in fire trucks.
The optimal droplets created by the AFT 50/02 water mist / CAFS system increase the surface area to maximize the efficient absorption of heat.
Wet & Dry Compressed Air Foam
Mobile, Easy to Transport Extinguishing System
Lancing Distance/Height: 18 m / 16 m
Variable Hose Length Options, from 5 to 30 m
Easy to Operate
Low Maintenace Costs
---
Technical Specifications
Extinguishing Agent Tank
Filling Capacity (EN3)
50 Litres
Material
Stainless Steel
Working Pressure
Pressure
8.5 bar
Propellant Gas Bottle
Medium
Compressed Air
Pressure Cylinder
Filling Pressure: 300 bar
Volume 6 Litres
Valve Connection: G5/8 interior
Technical Parameters
Operating Time
Approx. 125 sec.
Flow Rate
24 Litres/min
Operating Temperature
Tmin +5°C; Tmax +60°C
Frame
Double Powder Coated Steel Frame
Extinguishing Gun
Changeover Time
Approx. 2 sec. (Jet to Spray Mode)
Lancing Distance
Approx. 16-18 m Jet Mode
Approx. 6-7 m Spray Mode
Electrical Fires
Up to 1000 V / 3 m Distance 
Ratings (Extinguishing Performance)
A & B Fire Class
IVB as per EN1866
Dimensions
Weight Empty (Without Air Bottle)
52 kg
Dimensions (LxWxH)
Approx. 620 x 540 x 1110 mm 
Certifications
Standards
DIN EN1866, GS, TÜV, ISO 9001 (manufacturer) 1
Option
Electrical Nozzle
Up to 35 kV/1m Distance (No Jet Mode)
1) Country and sector-specific regulations have higher priority. If you have any questions, please contact AFT GmbH.