AFT Backpack 09/03
9 Litres
Water Mist/CAFS Extinguishing System
Low Working Pressure
High Efficiency
Portable & Mobile
Externally Robust V4A Stainless Steel Container
Low Maintenace Costs
Pressure: 8.5 bar
Flow Rate: 24 Litres/min
Weight Empty: 12.5 kg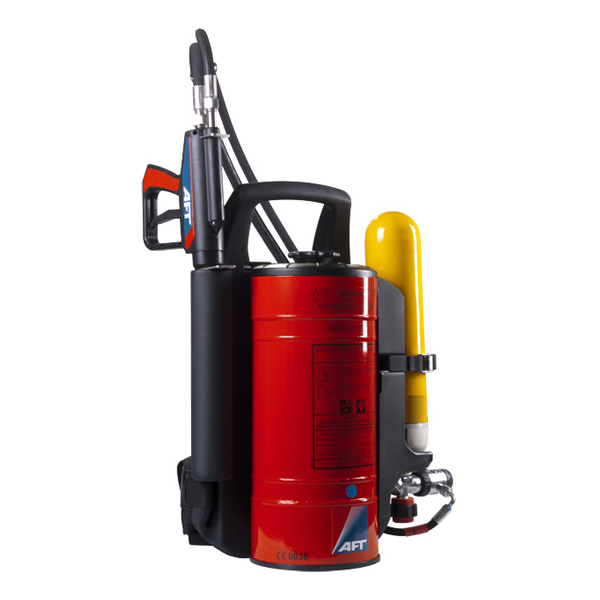 Description
The AFT 09/03 Firefighting Backpack is the first generation of our systems. A portable unit that brings in a significant reduction in response time and better accessibility, thus helping control fires at the initial stage.
The Backpack is available with an option to attach a  breathing apparatus. Backpack systems are ideal for use in industry, the first intervention systems in fire trucks & emergency vehicles, offshore & marine.
Water Mist/CAFS Extinguishing System
Low Working Pressure
Portable & Mobile
High Efficiency
Jet and Spray Mode
High Extinguishing Rating (A55/B233)
Consistent Water Mist Spray
Externally Robust V4A Stainless Steel Container
Easy to Fill
Low Maintenace Costs
Certification in Accordance With EN3
---
Technical Specifications
Extinguishing Agent Tank
Filling Capacity (EN3)
9 Litres
Material
Stainless Steel
Working Pressure
Pressure
8.5 bar
Propellant Gas Bottle
Medium
Compressed Air
Pressure Cylinder
Filling Pressure: 300 bar
Volume 2 Litres
Valve Connection: G5/8 interior
Technical Parameters
Operating Time
Approx. 23 sec.
Flow Rate
24 Litres/min
Operating Temperature
Tmin +5°C; Tmax +60°C
Carrying Device
Ergonomically Shaped Backpack
Extinguishing Gun
Changeover Time
Approx. 2 sec. (Jet to Spray Mode)
Lancing Distance
Approx. 16-18 m Jet Mode
Approx. 6-7 m Spray Mode
Electrical Fires
Up to 1000 V / 3 m Distance 
Ratings (Extinguishing Performance)
A Fire Class
55 A (as per EN3)
B Fire Class
233 B (as per EN3)
Dimensions
Weight Empty (Without Air Bottle)
12.5 kg
Dimensions (LxWxH)
Approx. 260 x 420 x 820 mm 
Certifications
Standards
DIN EN 3, GS, TÜV, ISO 9001 (manufacturer) 1
Option
Electrical Nozzle
Up to 35 kV/1m Distance (No Jet Mode)
1) Country and sector-specific regulations have higher priority. If you have any questions, please contact AFT GmbH.
---
Other Products in This Category