AFT Backpack 10/02
10 Litres
Water Mist/CAFS Extinguishing System
Low Working Pressure
High Efficiency
Low Overall Carrying Weight
Easy Filling of The Extinguishing Agent Tank
Universal Bottle Holder
Low Maintenace Costs
Pressure: 8.5 bar
Flow Rate: 24 Litres/min
Filling Capacity: 10 Litres
Weight Empty: 8.5 kg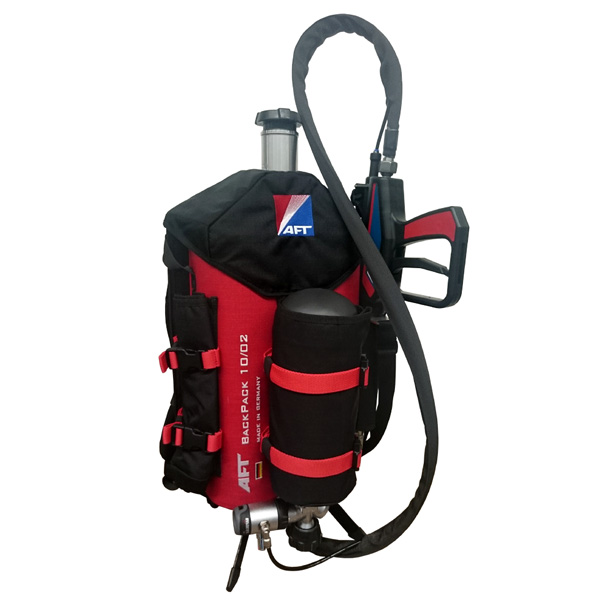 Description
The Backpack system is a portable unit that brings in a significant reduction in response time and better accessibility. The creation of fine water mist droplets helps block radiant heat enabling the firefighter to approach the fire more easily.
The AFT 10/02 Backpack is equipped with a second bottle holder as an option for usage along with a breathing apparatus.
Water Mist/CAFS Extinguishing System
Low Working Pressure
Low Overall Carrying Weight
Easy Filling of The Extinguishing Agent Tank
High Efficiency
Jet and Spray Mode
High Extinguishing Rating (A55/B233)
Consistent Water Mist Spray
Externally Robust V4A Stainless Steel Container
Low Maintenace Costs
Certification in Accordance With EN3
---
Technical Specifications
Extinguishing Agent Tank
Filling Capacity (EN3)
10 Litres
Material
Stainless Steel
Working Pressure
Pressure
8.5 bar
Propellant Gas Bottle
Medium
Compressed Air
Pressure Cylinder
Filling Pressure: 300 bar
Volume 2 Litres
Valve Connection: G5/8 interior
Technical Parameters
Operating Time
Approx. 25 sec.
Flow Rate
24 Litres/min
Operating Temperature
Tmin +5°C; Tmax +60°C
Carrying Device
Ergonomically Shaped Backpack
Extinguishing Gun
Changeover Time
Approx. 2 sec. (Jet to Spray Mode)
Lancing Distance
Approx. 16-18 m Jet Mode
Approx. 6-7 m Spray Mode
Electrical Fires
Up to 1000 V / 3 m Distance 
Tested up to 35 kV
Ratings (Extinguishing Performance)
A Fire Class
55 A (as per EN3)
B Fire Class
233 B (as per EN3)
IIB (EN 1866) With Extinguishing Agent Moussel C
Dimensions
Weight Empty (Without Air Bottle)
8.5 kg
Dimensions (LxWxH)
Approx. 180 x 340 x 700 mm 
Certifications
Standards
DIN EN 3,  TÜV, ISO 9001 (manufacturer) 1
1) Country and sector-specific regulations have higher priority. If you have any questions, please contact AFT GmbH.
---
Other Products in This Category